In October this year, Stockholm Film School's students were invited to a seminar and masterclass with the Canadian director Daniel Ferguson at Cosmonova in Stockholm. Daniel has directed several documentaries for IMAX format, including Journey to Mecca: In the Footsteps of Ibn Battuta and Last of the Elephant Men.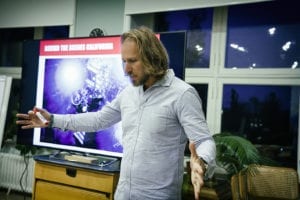 Right now, his latest movie Superpower Dogs is being shown on Cosmonova, and in connection with that, our students got a private viewing and subsequent masterclass with the director.
Daniel Ferguson was incredibly engaging and enthusiastic, and talked to the students about writing for IMAX formats, documentaries, directing, shooting and editing. He brought along storyboards, movie clips and scripts that he shared. It was an educational and inspiring afternoon!