Right now, there is full activity in our film studios at school, as our first year students are shooting their studio films. Watch a teaser from the coming film Bingo!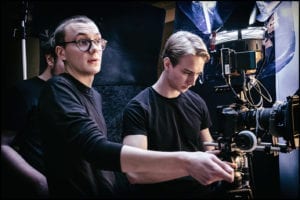 The film Bingo takes place in a retirement home, where life is just about to take a big turn for the two nurses Nadia and Simone.
Bingo is produced by Astrid Westerlund Norberg and Paul Adbo, Lovisa Väyrynen and Julia Gahne has written the script, Henrik Johansson directs. Behind the camera are Jimmie Jannerfjärd, Nawid Abed and Nicolas Damgaard. Lena Blom, Cai Mingxuan and Tara Fouladi are managing the sound.
Stay updated on the blog for more behind the scenes and work in progress material!